Major Activities
Project Coordination
Cyriac Elias Voluntary Association (CEVA) is a registered Voluntary organization initiated by CMI fathers in the year 1987 recalling the words of Heavenly Patron St. Kuriakose Elias Chavara. Started with the coordination of 900 social development projects of 325 Non-governmental organizations including the coordination of 15 Provinces in different parts of India to propose projects and implement development activities for the poor and downtrodden at the national level. CEVA always stood for the needy and aimed at welfare of the society.
A glance at the ongoing projects coordinating by our organization:
Integrated Community Development Project (ICDP) at Niravilpuzha, Wayanad under Christ University, Bangalore (2019-2022).
Disaster Management- Housing Project at Kainakary, Alapuzha & Udaya Colony, Ernakulam under Indian Catholic Community, Germany.
GEMS of CEVA (children's group of CEVA for their Holistic Development), YUVA (Youth Upliftment through Value Addition), Pranamam (a common platform for Senior citizens), Santhwanam (a group of HIV/AIDS infected and affected families) .
Capacity Building Programmes For Network Organizations
The Indian NGO sector is in a state of rapid change. CEVA has been functioning as a facilitator and mentor for the development of the charitable organisations, CBOs and NGOs associated with the CMI congregation. Networking and capacity building among these organizations have become an imperative and this is one of the tasks that CEVA has been addressing in the recent past. Considering the geographical spread of the network organizations, the perspective building and capacity building programmes were organized at the Province level.
Organizations at the Province level were assisted to conduct need based programmes targeted at NGOs/ CBO at different areas. Orientation and training programmes were organized. Multiple programmes were organized in several provinces / organisations. Token financial support was given by CEVA and the resource requirements were primarily met through local funding.
Disaster Management
CMI apostolate vision  has considerably helped in  improving & transforming the lives of several marginalized communities at different centers in the country where in  their needs & aspirations primarily constituting Food , Clothing , shelter & health services  were immediately taken care considering them as one of their brothers & sisters  belonging to one & the same  family , the family of God.
Nevertheless, the social activities of the CMI encompasses  a  much larger canvass  comprising of  social welfare schemes aimed at  mentally & physically  challenged , aged & destitute , incarcerated individuals, food supply, Health Services inclusive of hospital , Depression ,De- Addiction  centres, HIV / AIDS  care centres, counselling centres, Nonformal education & various community  based & community  Development  programs.
2018, August in Kerala floods have caused heavy infrastructure damages, hence there will be a need for redevelopment of several homes, schools, hospitals, roads, bridges, etc. that have been either demolished or heavily affected.  The need for the basic amenities like medical supplies, drinking water, food and proper sanitation is critical in order to avoid outbreak of any diseases. Several people who have been directly affected are in need for refuge and rehabilitation facilities in order to restore their lives.
In this condition CMI looked to rebuild the entire community and provided security for the victims by creating safe spaces like homes, institutions, etc. for long term. Securing the future of the children by creating a platform for them to be self-sustainable. The goal is to bring the people together and rise above the challenges of this disaster and make a difference in the community.
CMI mainly focused to provide rehabilitation and housing to the flood affected victims in Kerala including special attention towards children from orphanages and destitute homes by giving them shelter, food and basic healthcare.
As an initiative a Disaster Management Cell was formed at CEVA, Karikkamuri on 13/09/2018. The cell was consisting of 12 members from different social networks. It was a discussion meeting conducted to share views on the functioning of Disaster Management Cell, DMC roles and activities for rescue, relief, rehabilitation and reconstruction.
Organize special 'Adalaths' at flood affected areas by working with Kerala State Legal Service Authority.
Creating strong Social Associations.
Focus on quick rehabilitation activities
Creation of social awareness on government policies and benefits
Distribution of relief items in the severely affected areas.
A comprehensive rehabilitation program for the flood victims was evolved based on the local needs, by the CMI Generalate (CEVA) and the eight South Indian Provinces. CEVA generated INR 15,806,187/- distributed INR 1,200,000/- each to the eight South Indian Provinces to support the deserving victims of the flood in their respective areas. The support includes construction of new houses and renovation of damaged houses like roofing, walls, plumbing, electricity etc. Interventions such as livelihood programs, vocational trainings, education support, debt clearance support, medical support, counseling services etc, were initiates at Province level for the flood victims.
Over a period of time, CEVA with its strong national network actively involved in rescue, relief, rehabilitation and developmental activities including refurbishing and reconstructing disaster resistant houses during natural calamities covering all affected States and Union Territories in India by earthquake, flood and cyclones. It stood at the forefront to provide succor to hundreds of thousands poor families deprived of food, shelter, clothing and other essential health services in the aftermath of natural calamities. During this time of great devastation, CEVA could reach out to severely affected people with the support of 15 Provinces as a mother NGO. CEVA together with partner organization helped millions of people distributing food materials, clothing, and temporary shelter materials including essential health services at their door step. As part of its strategic plan community based disaster preparedness training programs were conducted in the calamity prone areas in order to build resilient communities. Task teams were put in place like coordinating team, early warning and rescue team, first aid, water and sanitation team to overcome future challenges and reduce eventualities.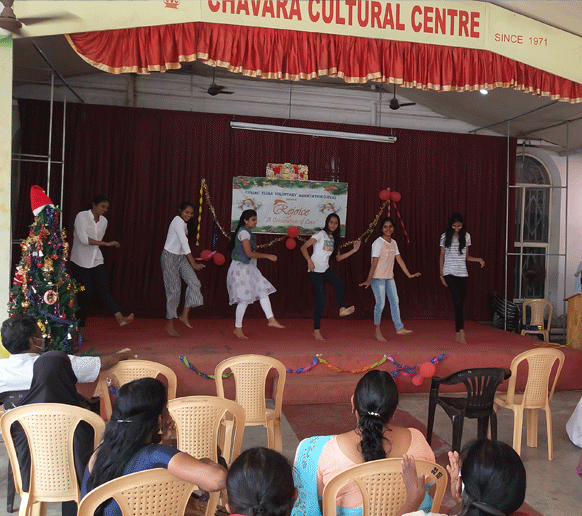 GEMS of CEVA – Holistic Development of Children
CEVA believes that "Each child is a world of opportunities". Favorable circumstances help them to reach the maximum of their abilities. Based on this principle, CEVA formed a group named "Gems of CEVA" for the holistic development of children from economically backward families. Through these projects, CEVA facilitate the Holistic development of children by enhancing their physical, psychological, social, intellectual, economic and spiritual aspects. 30 children are directly benefited through different programmes. CEVA since 2010 is providing maximum exposure to many children to develop and mould them to be socially sensitive useful citizens. As part of the project, CEVA ensures Personality Development,  Presentation Skills – Communication, Life skill development, Social Sensitization and Achievement of Educational Goal. The activities include:
Group Discussions & group activities
Skill/Personality Development Programmes
Counseling
Post Office Savings
Recreation Programmes
Summer Camps
Outings and Celebrations
Pranamam – A Tribute to Elderly
A novel initiative from CEVA, (bringing together the elderly especially those belonging to economically weaker section of society residing in and around Ernakulam, by attending to their daily needs and requirements) was launched in 2014 coinciding with the International Day of the Elderly. The objective of the initiative was to establish and share a common platform where the elderly congregate and indulge in constructive and meaningful interaction on various issues, thoughts and at the same time could give expressions to their aspirations. Presently Pranamam consists of 65 senior citizens; Group meetings are held alternate Thursdays which provides an opportunity for them to lay bare the issues concerning health and related financial difficulties.
To overcome these difficulties, CEVA initiated need based Treatment support and medicines to the elders. Special attention is also extended to those from poor financial background by providing food and nutritional kits and also periodically coordinating and conducting Awareness classes, arranging inspirational talks to keep them agile and to adopt a positive outlook towards ageing. Apart from the above initiatives informative entertainment programmes and festivities are also undertaken by CEVA for Pranamam group members.
Health and Happiness Programmes – CEVA focused on happiness and wellbeing through conduct of several awareness camps in yoga, exercises and engaged elderly citizens in group exercises towards improvement of their health standards.
Santhwanam – An Initiative for the HIV/AIDS Infected and Affected Children
Santhwanam – Meaning "Consolation" an initiative of CEVA for HIV/AIDS Infected and Affected Children of Kerala. To Combat HIV/AIDS through concientizing the society against its cause and effects is one of the major objectives of the project. Since its inception in May 2010, through this project CEVA has been successful in helping and caring for more than 200 families directly and many more through other like-minded organizations. The following services are provided to them:
House Construction & maintenance
Treatment Support for the Chronically ill
Education support for the Children
Income Generation Programmes
Psychological Support – Counseling
Awareness Programmes
Post Office Savings Schemes for their children – Recurring Deposit for 5 years
Health and nutritional supplements
Celebrations & Trips